The Dropout Manifesto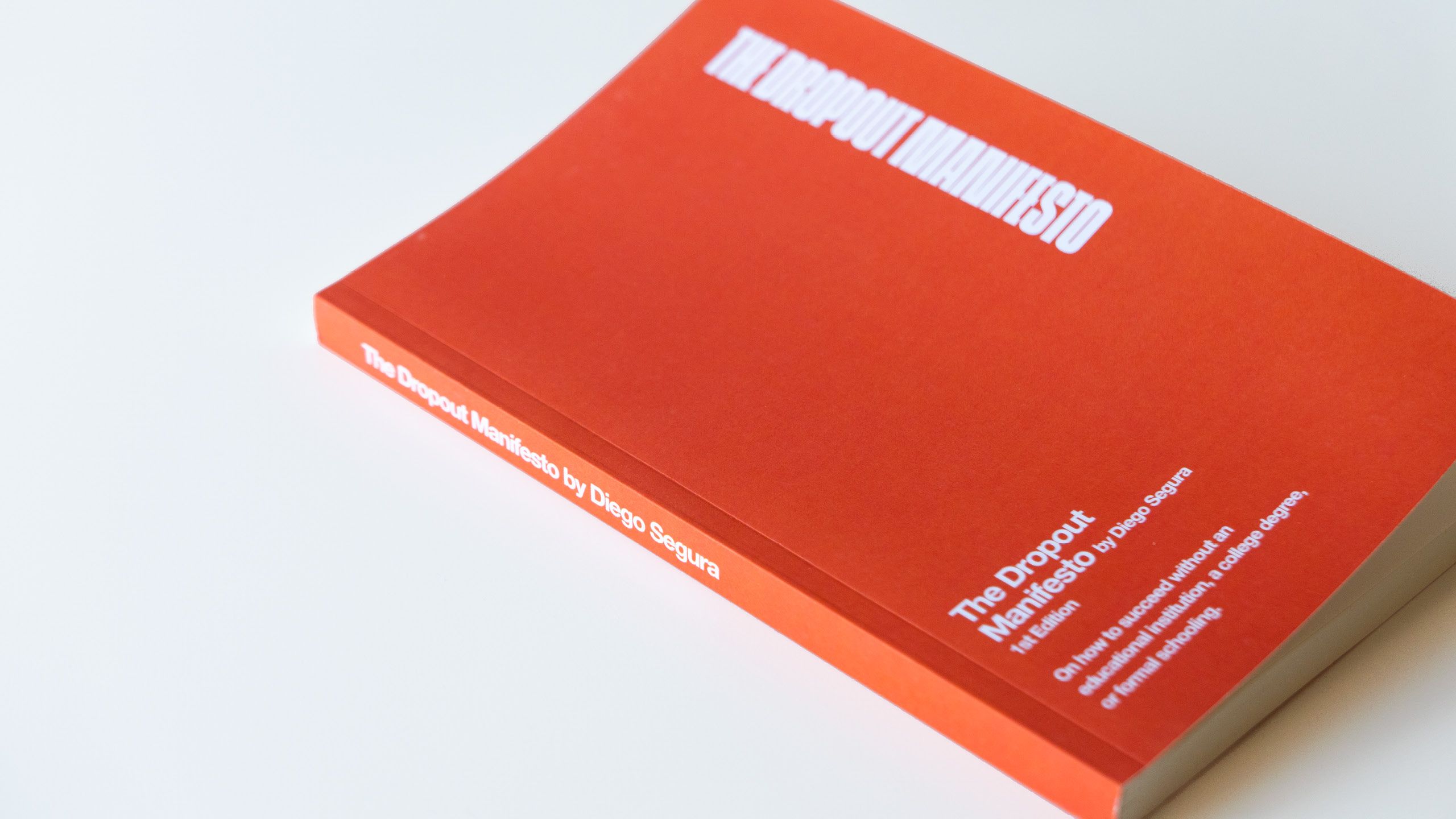 I wrote The Dropout Manifesto two years ago as a junior in high school.
Ten days after publishing the book, I dropped out and started working as a designer and writer.
Without college. Without a real high-school diploma.
The Dropout Manifesto set my path for the future. Maybe it can inspire you, too.
It's not a book convincing you to ditch school. Rather, by the end of this book, you should put it down and say, "There's no reason I can't go chase my dreams now. Even if I'm young. Even if I'm not qualified."
It's about dropping in to your own education, your life, your real goals. Not those assigned to you by society, parents, or friends.
Table of Contents
This book is dedicated to the crazy ones. To the ones who are crazy enough to think they can change the world. To dropouts.
Front Matter
I. On School and Institutions
On Compliance
What is School For?
A Manufacturing Process
A Better Model
School in a Modern World
Mentors, Not Teachers
A Simple Proof
Why We Show Up
A Misconception
On Dropout Statistics
Employers Want Degrees
School Will Leave You
Just in Case, Just in Time
Drop Out Without Dropping Out
If I Gave You Your Diploma
The Best Four Years
On College Alternatives
School Kills
II. On Self-Education & Edification
What's Your Remedy?
Knowledge and Network
Relentlessly Learn
Unique Knowledge Set
On Curiosity
On Communication Skills
Practice Confidence
The Study of Communication
Speak With an End in Mind
Listen Actively
On Reading and Excuses
Hijacking Mentors
Tools for Hijacking Mentors
Get Your Mentors to Respond
You Are an MVP
A Life Defined by Books
Further Reading
III. Philosophy
We Need Purpose
Meaningful and Positive Change
Gift-Giving Framework
Your Final Hours
Win the Next Minute
Tug of War (and Peace)
Goals and Fears
On Decision Making
Action and Reason
On Reflection
Rely on Systems, Not Discipline
On Clean Slates
Knowledge, Principle, Action
On Defiance
Knowledge, Principle, and Action in Defiance
On Embracing Change
On Fear Setting
Embrace and Pivot
On Becoming a Fan of Finality
The Five Whys
Further Reading
Conclusion